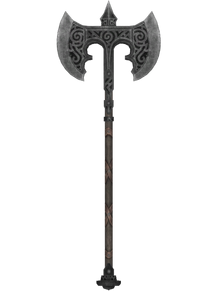 The Battle Axe is a weapon in Cry of Fear used by both Nack and Shadow Wolf. The Battle Axe is a known Nordic weapon used in war. The first enemies to have the Battle Axe are the Aztecs.
Stealth KillsEdit
"Violent" : The player slashes the enemies head open with the Battle Axe and pull out.
"Heinous" : The player slashes the side of the enemy into his thigh. The enemy turns around and is decapitated by the player.
"Gruesome" : The player slashes the enemy's leg and the enemy goes on his knees. The player then bashes the enemy's back twice onto the ground. The player then decapitates the enemy.
"Drop Kill" : The player drops onto the enemy and and decapitates them.
Ad blocker interference detected!
Wikia is a free-to-use site that makes money from advertising. We have a modified experience for viewers using ad blockers

Wikia is not accessible if you've made further modifications. Remove the custom ad blocker rule(s) and the page will load as expected.