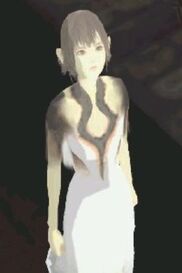 Larna is the third main character in Cry of Fear. She is the princess and daughter of King Cortos, leader of the Northern Kingdom. Larna is kidnapped by Savages to be brought to Nekron but Shadow Wolf saves her along the way and escapes while alos finding Nack who decides to help her get back to the Northern Kingdom. Larna is not playable but instead she must be guided by either Nack or Shadow Wolf during levels where she is needed.
BackgroundEdit
Larna is the daughter of King Cortos. Together they both live in the Northern Kingdom which is just pass the Jungles and Woodlands. Larna lived a normal princess life but was bored most of the time and would escape into the meadows for fun. King Cortos decided to keep her in the room though guarded when Nekron the evil wizard began planning world domination. Cortos refused to give into Nekron's demand of worship knowing that he was powerful but this angered Nekron who decided to take Cortos' kingdom by kidnapping Larna. Nekron sent the Savages to kidnap her for him and they were able to kill off the security and take her with them into the Jungles. This begins Larna's events in Cry of Fear.
Ad blocker interference detected!
Wikia is a free-to-use site that makes money from advertising. We have a modified experience for viewers using ad blockers

Wikia is not accessible if you've made further modifications. Remove the custom ad blocker rule(s) and the page will load as expected.